Although not visible to the naked eye, the dangers of wifi are all around us. Kevin Mottus has taken a strong interest in this issue, especially related to children in schools.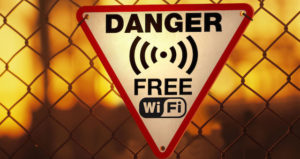 Wifi is available in schools all across the United States and around the world, yet many people remain unaware of the serious risks this can have on kids.
Radiation exposure from wifi, or wireless internet, has been shown to make kids sick. Symptoms of illness from this radiation exposure include:
Headaches

Heart Racing

Nausea

Rashes

Foggy Vision

Weakness

Shakiness
Experts have gone in to test the radiation levels in a typical classroom using wifi and have found results that are considered high, but still fit under the established safety limits.
Despite radiation levels fitting within the safety level standards, children and other individuals are still reacting and feeling these symptoms. These results leave Kevin Mottus believing there is a significant need for change and additional research to ensure that safety measures are met.
And in the meantime, it is important to remain cautious until new scientific information develops. In recent years, many schools, governments, and other authorities have started to ban or at least warn against the use of wifi in schools.
Because their bodies and brains are still developing, children are much more susceptible and vulnerable to the dangers of wifi and radiation exposure.
Many parents along with Kevin Mottus have stood up to say that they are not willing to risk the health of their children while safety limits are being experimented with. Alongside these parents, Kevin Mottus is not willing to accept choosing convenience over the expense of safety. He firmly believes that it is the safety of children that needs to come first before we can worry about advancing our education and technology.
Learn more about the facts of wifi in schools in this video and check out this list of 136 Studies showing the health effects from wifi radio frequency radiation. 
Some Important School Safety tips for your children:
1. Opt for wired connection instead of wireless.
2. Cell phones should be on airplane mode or turned while at school. This rule needs to be strictly enforced.
3. Until wired connections can be put in place, follow these recommendations to reduce wireless exposure:
a. Turn off wireless access point when not in use
b. Turn off all wireless devices when not in use.
c. Per manufacturer warning all devices must be held 8 or more inches away from the body when in use.
d. Train teachers and students on how to hold devices away from the body.
e. Warn parents that a possible carcinogen, per World Health Organization Guidelines is placed in the classrooms.
f. Allow students and teachers to opt out of wireless classrooms.
g. Educate parents, teachers and students about the symptoms of electro-hypersensitivity, a sensitivity that occurs in 3 to 5% of the population that includes symptoms of:
Headaches, ear ringing, fatigue, heart palpitations, insomnia, depression, burning sensation, tingling sensation, nausea, dizziness, nose bleeds, flushed face, excessive thirst, tooth pain, memory loss, concentration difficulties, anxiety, vision disruption, dry eyes, breathing difficulties, digestion problems.
h. Provide reasonable accommodations for teachers and students experiencing these symptoms.